21 November – 16 December 2019 at Sanya, Hainan Province, China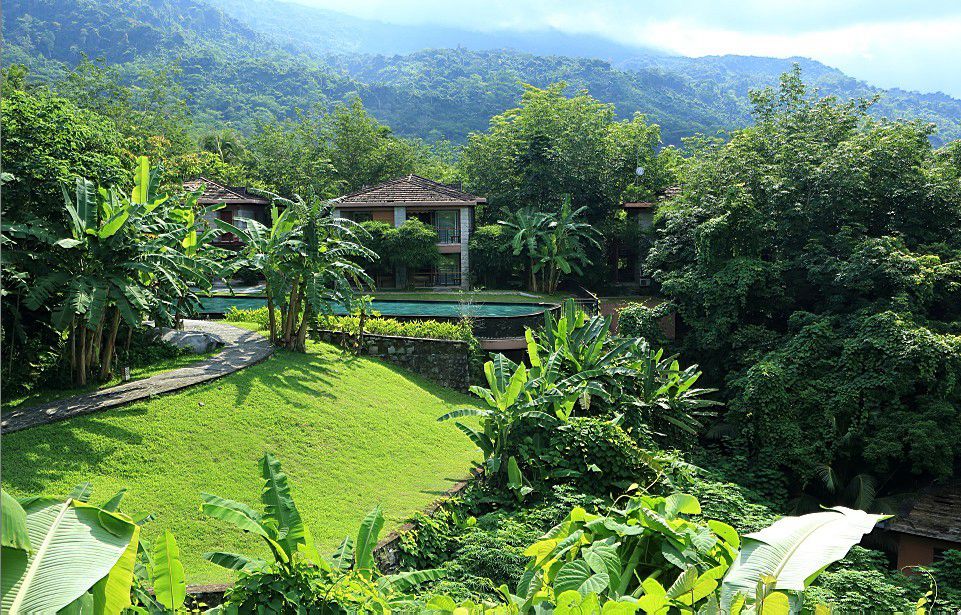 This 26 days retreat will be held in a five-star tropical resort with hot spring, swimming pool, coconut trees and a very beautiful scenery all around near Sanya. It's a very good qi field for you to have a rest, to release tension and recover from all kinds of problems.
Healing and training of healers will be combined in an intensive course.
Participants who want to receive healing can learn and practice self-healing techniques while also receiving intensive healing from teachers, healers, classmates and through the strong qi field that will be created by everyone, heart to heart.
Healers will learn the systematic techniques of Zhineng Qigong treatment. They will have the opportunity to practice real healing and to share their healing experiences with one another.

 Contents:
1) Entirety world view
2) Three levels of matter theory
3) Open heart, go beyond old pattern of life
4) Find the original power of pure consciousness and use it to transform qi
5) True love emerges, heal body and mental problems
6) Cultivate fundamental conditions for a healer
7) Surrender and accept everything and reality, gain freedom
8) Send information from true self to heal self and others
9) Talking healing
10) Qi field healing
11) Healing through practice
12) Pure consciousness healing
13) Group healing
14) Heal different kinds of illnesses, such as cancer, high blood pressure, diabetes etc.
15) Make healing plan for changing the life of self and patient totally

Eligible students:
Patients and people who wish to improve their level of health
People who want to become qigong healers
People with natural healing abilities
Please note that we are unable to accept people with an infectious disease or a critical illness
Information for participants with health issues: Please have a medical examination before you attend the retreat and have another one after the retreat and please inform us about the results. In the past healing retreat, we heard only from some particpants that their tumors disappeared, one person completely recovered from cancer and pain etc. However, we didn't get the medical examination as a proof. This time we would like to know the details of the medical results so that we can give everybody more exact healing information and make a plan as a research.
Certificate:
Harmonious Big Family will issue a certificate to those who pass the examination. If a student does not pass, he/she will have further opportunities to succeed.
Teachers:
Wei Qifeng, Xi Xiaofeng, Tao Qingyu, Lv Junfeng
Price & payment:
Healing and Healer Retreat (26 days): 18200 Yuan per person
The price includes shared room, food and tuition.
Single room: 180 Yuan extra per day
The total amount is to be paid in cash upon arrival. We accept the following currencies: Chinese Yuan, USD, EURO, GBP, CAD, AUD, CHF and NZD.
Number of participants:
Please note that the number of participants is limited to approximately 80 persons. Early booking is advised.
How to get to Sanya:
Place: the tropical resort is located near Sanya on Hainan, China (http://www.naradahotels.com/hotel.htm?hotelId=17)
Fly from the airport of Beijing, Shanghai, Guangzhou, Hong Kong or Chengdu to Sanya airport.
We will arrange a free hotel shuttle service from the Sanya airport to the retreat place. If you want to take a taxi, you need to pay 300 – 400 Yuan to the driver.
Contact:
For general questions, you may contact our teachers. Please view our FAQ first (below).
Booking:
Please contact teacher Tao or teacher Xi to book for our retreat:
Booking by e-mail:

Click here to view our terms & conditions.
FAQ Healing & Healer Retreat

We recommend that you arrive on November 20th as the retreat starts on November 21st.

If you want to arrive a couple of days before the start date of the retreat or if you want to stay longer at the resort hotel after the retreat, the following rooms rates for one person will be charged:

- double room: 550 Yuan per day
- single room: 730 Yuan per day

The room rates include 3 meals a day.

Please inform us early about the duration of your stay (arrival & departure date), so that we can make a reservation at the resort hotel for you, when rooms are still available.

The retreat takes place at the beautiful Narada tropical resort hotel in Baoting County near Sanya, which is located in the south on Hainan Island, China.

You can fly from the airport of Beijing, Shanghai, Guangzhou, Hong Kong or Chengdu to Sanya airport.

We will arrange a free hotel shuttle service from Sanya airport to the retreat place. The hotel shuttle will drive from Sanya aiport to the retreat place 3 times during the day, so that participants, who arrive at different times on the same day, may have to wait. One of our teachers will hold up a sign with "2019 Sanya retreat" in the arrival hall of the aiport.

Hotel shuttle service times from Sanya airport to the retreat place:

- departure time at Sanya airport: 11.40 (arrival time at the hotel: 14.00)

- departure time at Sanya airport: 13.50 (arrival time at the hotel: 16.00)

- departure time at Sanya airport: 21.00 (arrival time at the hotel: 23.00)

If you want to drive to the retreat place immediately, you can take a taxi and need to pay 300 – 400 Yuan to the driver. In this case, please bring Chinese Yuan with you to pay the taxi fare in cash.

Address of the hotel:

Narada Hotel, Qixianling, Baoting Town, Hannan Province, China
中国海南保亭县七仙岭君澜温泉度假酒店
Contact: +86-(0)898-83888088

If you want to take the taxi, please show the taxi driver the address in Chinese characters.

You will need a valid one month tourist visa (for the duration of our retreat). Please contact your local visa center or Chinese embassy for all visa information and regulations (e.g. valid passport a least six months after the date of arrival, visa will start from the date it is issued not from the date of your travel etc. - please check on the up-dated information of your visa center or embassy).

You don't need an invitation letter from us. Please provide the hotel address in your visa application form:

Narada Hotel, Qixianling, Baoting Town, Hannan Province, China
中国海南保亭县七仙岭君澜温泉度假酒店
Hotel telephone number: +86-(0)898-83888088)

If need any other information, please contact us.

You can exchange foreign currency to Chinese Yuan with the teachers Xi and Tao. We accept the following currencies: Chinese Yuan, USD, EURO, GBP, CAD, AUD, CHF and NZD.

There is a ATM machine in the hotel lobby where you can withdraw money with your credit card (1000 – 3000 Yuan everytime). Please inform yourself if your credit card is accepted in China.

All rooms are comfortable with private terrace or balcony. They are well equipped with: Toilet, shower room, private whirl pool with hot spring water (outside on the balcony), hair dryer, bath towels, bathrobe, bath slippers, umbrella, shampoo, water boiler, cups, glasses, small refrigerator, safe, ceiling fan, air conditioner, desk, chairs, flash light etc.

Free wireless internet is available.

The resort offers a hot spring aera. When you go into the hot spring, please don`t stay longer than 15 minutes inside.

For people with heart problems or infectious diseases it is forbidden to use the hot springs.

We offer 3 meals a day. There is a very various and delicious self-service breakfast area (Western and Chinese food). Please take only what you can eat at breakfast in order not waste food. Please note that it is not allowed to take food from the breakfast area to the room.

Lunch and dinner will be served in an extra area for our retreat group. You will find several dishes specially prepared for our group: one or two dishes with meat or fish, different kinds of vegetables, rice and soup. Vegetarians and vegans will always find a variety of salads and uncooked and cooked vegetables. For health purposes we do not offer desserts.

The nearest town is Baoting. You will find there everything you need. You can go there by taxi (about 15 minutes/50 Yuan) or by bus (every 20 minutes nearby the hotel/3 Yuan).

There are also 2 small shops nearby the hotel (5 minutes by foot), where you can buy local fresh fruits and organic coconut as well as some products for daily life. You can also buy fruits and coconuts in the hotel.

During the retreat you will have one free day every week. You can organize a tour by yourself or join an organized trip. We will propose and arrange some excursions.

On your free day you can also stay in the beautiful hotel area and relax and/or continue qigong practice with one of the teachers.

In November/December season it is still warm on Hainan. But sometimes there are cool winds and rain. Please bring clothes with you for windy and rainy weather. We recommend loose fitting, comfortable clothing that you can layer as needed. You will need indoor shoes or slippers and outdoor shoes.

We suggest the following:

Toiletries; a meditation cushion; mosquito repellant; a hat/sunscreen; washing powder; comfortable clothing; bathing suit; medication that you regularly take (enough for the length of your stay); indoor shoes or slippers and outdoor shoes.

We encourage you to attend the full retreat to get the most out of the experience for yourself. For this reason, we only accept participants who book the entire retreat. In case you cannot stay until the end of the retreat, please note that all payments are non-refundable.

If you have booked our retreat and you are no longer able to attend our retreat, please cancel your booking as soon as possible by e-mail. Please note the following cancellation charges:

If you cancel your booking more than 30 days before the start date of the retreat, we will not charge any fee.

If you cancel your booking less than 30 days before the start date of the retreat, we will ask you to pay a cancellation fee of 300 USD.

Failing to inform us of a cancellation, may mean that you will not be accepted for future retreats and you need to pay a charge of 300 USD, because we cannot fill a cancelled place.
Impressions of the healing and healer retreat
2018: Healing and Healer retreat
In November 2018 around 148 participants from 26 countries came to the beautiful and pure landscape of the Narada Rainforest Resort in Hainan, China, to receive healing, learn self-healing as well as healing methods and deepen their healing and Qigong practice.
Leaded by 7 Zhineng Qigong teachers, the big group build a strong Qi-field which was a powerful basis for a deep transformation of all kind of illnesses such as high blood pressure, Parkinson's, cancer, diabetes, allergy, heart problems, dementia, depression, insomnia and so on. Sometimes the group was divided into several small groups to intensify teaching and practicing as well as for exchanging personal experiences. Healers and the ones who liked to become a healer had many opportunities to explore the healing methods one by one or during group healing, to get feedback and to gain self-confidence.
The number of people with health issues was about 1/3, so they could receive healing from many healers. Many people shared their healing experience during the retreat. For example one man lost 8 kilo weight within two weeks by practicing the wall-squat method, one woman's visible tumor disappeared, one man could start to hear on one ear which was deaf for more than 50 years. Some participants also shared their experiences since the Dali retreat in 2017 and their progress was very wonderful, amazing and touching.
The beautiful nature of the Narada Resort, very comfortable rooms, healthy food, clean air, a strong qi field, love, laugh, good information and a strong solidarity as well as the teaching, devotion and wisdom of all the teachers made this retreat unique, powerful, unforgettable and inspiring.
2017: Healing and Healer retreat
52 participants came from 12 countries to receive healing and train to become a good healer. In the beautiful nature qi field, love and good information transformed more than 34 kinds of illnesses which include: breast cancer, lung cancer, prostate cancer, colon cancer, headache, arthritis, Parkinson's, asthma, heart problem, diabetes, high blood pressure, insomnia, constipation, allergy, body parts pain…… Most patients got good benefit. Almost all the healers grasped the healing theory, techniques and did healing for at least ten people, they got good feedback and gained confidence. Everybody felt happy and satisfied.
Hun yuan ling tong!
With sincere heart, we wish that everyone unites together, improving continuously.