100 Days
Taiji Ball Nei Jin Online Training: develop inner strength

&

Opening Intelligence Online Course
with teacher Zhao Liancheng

A) 100 Days of Nei Jin (develop inner strength) Taiji Ball Class from 5 November 2021 to 12 February 2022.
B) Opening intelligence course: A total of 13 classes will be held every Saturday from 20 November 2021 until 13 February 2022.
A) 100 Days of Taiji Nei Jin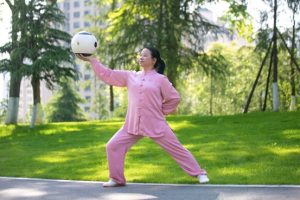 A healthy Spine helps you to enjoy life. The spine is very important to the human body, just like the roof beams of a house, it plays a decisive supporting role. The spine is where the whole body of yang qi is located. It is connected to the brain, the lower limbs, and manages the functions of the internal organs. Therefore, if the spine is healthy and strong, it helps to remove the pain of our back, neck, head, hands and feet, and even problems with our inner organs.
Taiji ball is one of the most powerful exercises that helps to rebuild the entire body's health, vitality and clarity of the mind. Life is beautiful and magical. Therefore one needs a clear mind to absorb and experience life to the fullest.
Schedule:
English class: every day 6.00-7.00 am or 2.00-3.00 pm (Beijing time)
German class: every day 1:00-2:00 pm (Beijing time)
Class content: In-depth practice with the teacher in order to experience the Nei Jin (inner strength) of Taiji ball practice, so we can eliminate diseases and strengthen the body.
Course fee: 500 Euro
(reduced price for previous Taiji Ball training students: 400 Euro)
B) Opening intelligence course
A total of 13 classes will be held every Saturday from 20 November 2021 until 13 February, 2022.
Class time: 5:00 to 6:20 pm Beijing time (on Dec 12th: 3:00-4:20 pm)
Course content: Inheriting the wisdom opening method of the original Huaxia Qigong Center, combined with the left and right brain training,so that each person can memorize 200 PI (numbers in random order).
Course fee: 300 Euro
Discount: If you participate in both courses, the Nei Jin Taiji Ball Class and Open intelligence course, the total package participation fee is: 600 Euro.
How to register:
For registration and questions please contact:
For the German class: teacher Shi Ping:
Payment:
Please make a PayPal payment to teacher Zhao's Paypal account:
Please inform Teacher Zhao about your Paypal transfer payment, because we have to allocate your payment to your registration correctly.
After you have paid the participation fee, we will send you the Zoom link and the password of the online session.
What you need to join our online sessions:
To join our online sessions you need: a computer, cell phone or tablet (with a camera and microphone) and an internet connection. We recommend a computer or a tablet, because the display of the mobile phone might be too small for you to recognize certain qigong methods.
For the online transmission we use the video conferencing tool "Zoom". As a participant you don't need to register at Zoom. You can just use the zoom link that we will send you to join our online sessions. You can download the Zoom app (https://zoom.us/), so that you only need to use the password or meeting ID.