Taiji Mu Quan
18 December, 2020 – 7 January, 2021 (21 days)

Taiji Mu Quan (taiji mother form) was developed by Dr. Pang in recent years. It is a part of zhineng qigong culture. It manifests the essence and source of all the taiji, like the mother of all kinds of taiji. This taiji form is based on the zhineng qigong hunyuan entirety theory and the second life pattern theory. It mainly works on the entire transformation of the universal qi and internal qi, as well as it enhances middle channel qi and brings consciousness towards the true-self.
Taiji Mu Quan is very simple and easy to learn and very effective to improve the health and create harmony in life. Taiji Mu Quan consists of series of methods. In this retreat, we will teach and practice the basic level and cultivate teachers.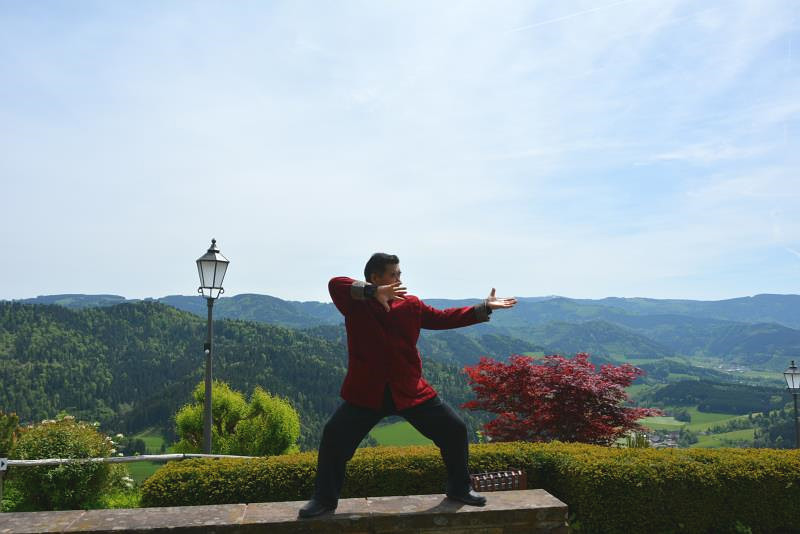 Content:
1. Practice meditation, relax body and mind, focus and purify consciousness.
2. Practice taiji spiral movement and straight leg sitting posture, make body flexible and mingmen qi abundant.
3. Practice conscious qi body and qi entirety state, experience entire movement.
4. Qi and consciousness information healing.
5. Learn and practice the posture and movement of the first level Taiji Mu Quan, including Zhong Zi Zhuang (a standing posture for practice middle channel), Taiji Si Shou.
6. Push hands training to make body qi strong.
Daily schedule:
7:00 – 8:00: morning practice
8:00: breakfast
9:30 – 12:00: practice
12:00: lunch
15:00 – 18:00: practice
18:00: dinner
19:30-21:00: practice
Sundays: Free day for relaxing or excursions
Language:
The Zhineng Taiji teacher training retreat is in Chinese and English language.
Certificate:
The Harmonious Big Family will issue a certificate to those who sucessfully pass the examination. If a student does not pass, he/she will have further opportunities to succeed.
Teachers: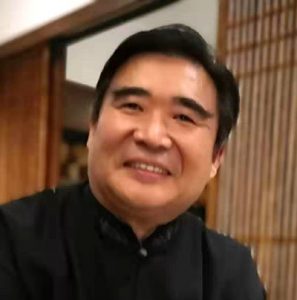 Teacher Yang Yunzhong
From 1993 to 1995 teacher Yang attended the two-year teacher training at Huaxia Center taught by Dr. Pang, Then he became a teacher of the two-year training class. Later, he practiced and researched all kinds of taiji forms. He combined zhineng qigong theories with taiji experiences. His practices achieved a very good level in the taiji field. He created Rushi taiji and established the "Chinese Taiji Wisdom School" and "Taiji Cultural Foundation" in Hongkong. In recent years, Dr. Pang taught him "Taiji Mu Quan" (taiji mother form) for spreading a human new culture.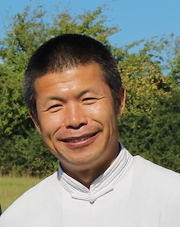 Teacher Wei Qifeng
In 1991, teacher Wei learnt zhineng qigong and found inner peace. He attended the two-year teacher class at the Huaxia center from 1993 to 1995. In 1995, teacher Wei began to work as an editor at the Huaxia center, where he usually guided the morning and evening practices for the Huaxia staff. He was also part of a small group that used to teach new methods that were developed by Dr. Pang. In the beginning of 1999, teacher Wei transferred to the Healing Department. He is the founder of daohearts. In recent years, he has focused on mingjue level consciousness practice to improve the world consciousness field to build a harmonious life and world.
Price & payment:
Further details will be published shortly
Address of the retreat location:
Further details will be published shortly
Visa:
Further details will be published shortly
Eligible students:
People who wish to learn Taiji Mu Quan to improve their health and life
People who want to become a teacher of Taiji Mu Quan
Please note that we are unable to accept people with an infectious disease or a critical illness
Contact & registration:
For registration you will receive a registration form and details of the bank account for paying your deposit. Please send us an e-mail to:
or