At the end of last century, teacher Pang had gave seveal lectures about his ideas on a harmonious world. He described this as human beings' common dream of life. It would be a happy, peaceful and free world.
In 2007, teacher Wei and several qigong friends had the idea of founding a harmonious big family. The idea was to receive practitioners from all over the world. Some would live there for a long time; those with few resources would stay for free; some people would work there as volunteers. The big family would take responsibility for members as needed. In order for this to happen, we are looking for a beautiful place and preparing funds.
Culture and practice
Culture is the most beautiful expression of mankind. Mankind reflects and experiences the wisdom of life through culture. Reflecting and revealing the wisdom of life is the essential work of every culture and its individual members if they are to sustain and thrive.
What is really important for mankind? How does an individual or a culture sustain health? How best to secure and maintain freedom? Zhineng Qigong explores these questions and provides answers through the achievements that result from its practice. Today it is growing increasingly profound and potent as more and more people practice Zhineng Qigong.
A harmonious world family is a real and attainable possibility. Zhineng Qigong arises from many cultures, discovering and reflecting the essence of all their greatest wisdom. It can help everybody surpass the limits of culture and experience the source of the life of all human beings. The cultures of mankind serve the life of mankind. From our culture, we should discover laws that are in accord with a good state of life. Those laws should create a new mode of consciousness. This is our goal and mission.
All people come from different nationalities, races and countries. Living as a harmonious big family, happily sharing life and experience is like The World Village.
Here, beginners will learn methods to make the body strong and to develop wisdom. More experienced practitioners will discover their practice becoming deeper and deeper. Eventually everyone will walk on the path of liberation and freedom in life, becoming – like the saints and sages – masters of the laws that bring peace, happiness, health, purity, equality, power, and wisdom in every moment. Our family, our paradise!
Dr. Pang's cause and goals
Dr. Pang, the founder of Zhineng Qigong, used his extraordinary abilities to experience and research the essential elements of many religions and philosophies, types of qigong, the martial arts, Chinese and Western medicine and modern science. From these he took the most valuable understandings about life developed by human beings. Based on these, he integrated and developed his theories about human beings' life into an integrated broad theoretical system: Hunyuan Entire Theory. This great theory directly and simply illuminates the laws of life, including those of humans and the natural world as well as humans and society. Hunyuan Entirety Theory especially illuminates the law of consciousness. It helps people cast off blind faith, superstition and ignorance, to develop a clear scientific understanding.
At the end of the 20th century, Dr. Pang foretold that the 21st century would be the century in which human consciousness would awake. He said the goal of people would move from collecting material goods to working to actively know, change and rebuild their consciousness. People will cast off the fetters of selfishness and greed to become their own healthy and free master. Dr. Pang's scientific theory and the work he undertook will have great effects on the freedom and liberation of mankind. In the 1990s, the Zhineng Qigong cause developed rapidly. Dr. Pang founded a training center, a healing center and a research center, which provided a firm foundation for the development of Zhineng Qigong.
At the end of the 20th century, Dr. Pang gave an important lecture about harmonious culture and how to create a harmonious world. In it he described the new way of life, the new consciousness and the new model of production that were needed to create a harmonious world. This is the common goal and the dream of mankind: a happy, peaceful, equal and healthy world filled with universal love. At that time Dr. Pang began building Beijing Qigong city to realize this great ideal. The intention was for this Qigong city to receive people from different races and countries to create a model of a harmonious world. Although the building of this Qigong city was stopped, Dr. Pang's ideas and the cause he promoted have spread throughout the world, bringing health of body and mind for many people. While people may not even be aware that Dr. Pang is doing something for them, his spirit surpasses time and space, sending powerful information to all Zhineng Qigong practitioners. Through this and through the spread of his knowledge and methods, the Zhineng Qigong qifield all over the world is integrated into one and becomes stronger.
Dr. Pang's cause and goals are all Zhineng Qigong practitioners' cause and goals. As long as we work hard on the ideal of mankind's liberation and freedom, as long as we act according to the scientific laws of life, our ideal will surely come true.

Wei Laoshi's Biography
My name is Wei Qi Feng. I was born in 1973 in Gansu Province in northwest China. I began learning qigong in middle school. At this time I felt sad and confused and wanted to know what my life was for. I wandered in the nearby mountains seeking Daoist and Buddhist sages but didn't find anyone. Then in 1991 I learnt Zhineng Qigong and found inner peace and a common community. As soon as I was able, I did the three month training class at Huaxia. On returning to my school I began teaching Zhineng Qigong and soon had more than 200 students. I also did healing with them and their families.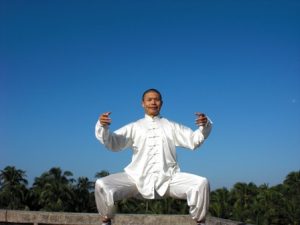 In 1993 I returned to Huaxia to begin the two year teacher training course. This was only the second year of the programme and we were fortunate to be mostly taught by Dr Pang himself, which was not the case for later students. When I graduated in 1995 Pang Laoshi wrote to me, "nu li wei Zhineng Qigong shi ye feng dou; hunyuan ling tong". This means "put all your efforts into spreading Zhineng Qigong culture", and it has inspired me ever since.
In 1995 I began work as an editor at Huaxia, where I usually led the morning and evening practice of Huaxia staff. This included all the healing teachers, senior staff from the different departments and all the staff of the publishing department as well as a range of other workers. In all there were 500 – 600 people practicing together. I also was part of the small group (of 10 – 20 people) used to teach new methods as they were developed by Pang Laoshi. He would teach us the method and we would then teach it to all those at our practice.
Early in 1999 I moved to the Third Healing Department so as to broaden my experience. The Third Department was for people who were turned down by the other two Departments as being too seriously ill and they all required medical attention. At any one time there were 300 – 600 patients there. Another teacher and I led the daily practice there and taught the methods to patients.
At the end of 1999 I left Huaxia. I had two dreams. One was to set up a kindergarten to teach children; I felt it was easiest to help children as it is difficult to change adults. My other wish was to help those whose suffering was greatest but who were unable to help themselves, such as amputees or blind people whose family had deserted them. Unfortunately, difficulties for qigong at that time meant I was not able to achieve my dreams.
In 2006 I was able to begin teaching qigong again. My dream now is to help develop a centre where Zhineng Qigong friends all over the world can come together to research, study, practice and help spread Zhineng Qigong culture. I want to use Dr Pang's teachings to help create a new model of thinking and living together.
Completion of successful English class
Intensive English classes were held in the centre from 1 December 2010 to 10 January 2011. Ten highly qualified teachers participated in the course and several other teachers attended the classes for some days as observers. Classes were held from 9 to 11:30 a.m. and from 2:30 to 6:00 p.m. We spent the whole course in the new centre, with an exceptional qi field and a beautiful winter atmosphere.
To begin with we learned vocabulary of the parts of the body and inner organs. We followed with a simple way of creating and closing a qifield. After that, all teachers learned very quickly the instructions for Three Centres Merge Standing Meditation and we started to have morning and evening practice in English. Every teacher led the practice at least every two days. Gradually we added more and more vocabulary and in two weeks people had learned Lift Qi Up Pour Qi Down and Body and Mind instructions. All teachers led the practice as much as possible.
After being familiarised with the instructions, we explored them in more detail as if teaching the forms, including La Qi. We also introduced more vocabulary in order to help teachers to use English freely when leading the practice, so that they could express and follow their own state. At the very end of the course we went through several texts: on qi reactions; introducing Zhineng Qigong; on Teacher Pang′s vision and goals and on the concept of harmony.
Throughout the course we introduced practical English phrases and vocabulary. To enrich the learning, we played many games, sang songs, danced and enjoyed acting. The course had one very special student – Zhu Zhu – a four year old girl who was cherished by everyone for her beauty, talents and spontaneity! The whole group went for an excursion up the mountains and slept overnight at the temple next to the Golden Peak. It brought us a wonderful opportunity to climb it in the morning as the very first visitors and watch the sunrise. We also enjoyed the Christmas atmosphere, offering each other small gifts under a little orange Christmas tree and inviting guests for a family Christmas evening. At the end of the course, almost all teachers were able to lead the three main practices with confidence and ease.
During the final sharing, all teachers expressed their gratitude and joy. All felt that their qigong level had greatly improved. Wei Laoshi was amazed by everyone′s ability to receive and use the language so quickly. That was thanks to the fact that all teachings were held in a qi field and for most of the time teachers were in a paranormal, very concentrated qigong state. We stressed immediate use of the new knowledge and always encouraged everyone to speak. The way and speed at which they learned was just incredible!
The teachers themselves never thought that they could learn so quickly. Some of them have had basic English knowledge from their studies, but they forgot it as they could never use it. They all valued the fact that they were taught by four foreign English teachers. Apart from the English classes, all teachers were also very happy to meet and spend time together again. During the course many discussions took place and teachers could share their ideas about how to work together and spread Zhineng Qigong culture worldwide.
All the precious moments that we lived together let us go home with a feeling of being a genuine Harmonious Big Family and a deep conviction that our dream will come true! Hun Yuan Ling Tong!