100 Days
Taiji Ball Nei Jin Online Training: develop inner strength

with teacher Zhao Liancheng

23 September – 31 December, 2022 (100 days)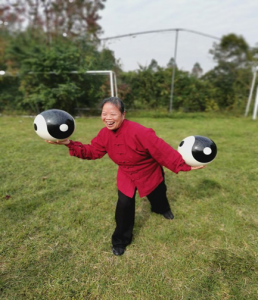 Zhineng Qigong Inner Strength Taiji Ball is an important method of practicing strength, practicing qi, practicing form and practicing intention taught by Professor Pang Ming.
Internal Strength Taiji Ball is a classic method of disease removal and fitness for internal organs and external training of muscles and bones. This method carries the cosmic mixed vitality, opening and closing around the body, turning left and right, up and down, waist strength; its inner and outer winding exercises can drive the whole body movement, promote the good blood circulation of the whole body. It play the role of loosening the waist, stretching tendons, plucking bones, long-term adherence to exercise, can bring participants in a good spirit and making great body!
Taiji ball is one of the most powerful exercises that helps to rebuild the entire body's health, vitality and clarity of the mind.
You can join our Free Taiji Ball online sessions to get an overview about Taiji ball practice:
September 16 – September 22
100 Days Taiji Ball Nei Jin online training schedule:
Online class: every day 6.00-7.00 am and 2.00-3.00 pm (Beijing time)
Class content:
In-depth practice with the teacher in order to experience the Nei Jin (inner strength) of Taiji ball practice. We will practice Nei Jin Taiji Ball with two balls.
Course fee: 500 Euro
(reduced price for previous Taiji Ball training students: 400 Euro)
Translation:
This 100 day Taiji Nei Jin Training class will be translated into German by Ping Dietrich-Shi. There will be extra Taiji Ball classes for German participants. For more information, please visit: https://www.zhinengqigong.de/kurse-workshops-seminare-2022/
Opening intelligence course
From October 2nd to December 18th (a total of 12 lessons)
Class time: 4:00 to 5:00 pm Beijing time
Course content: Inheriting the wisdom opening method of the original Huaxia Qigong Center, combined with the left and right brain training
Course fee: 300 Euro
(reduced price for previous Taiji Ball training students: 270 Euro)
How to register:
For registration and questions please contact:
For registration and payment for the German class, please contact teacher Ping Dietrich-Shi:
Payment:
You can pay the course fee by Paypal or by bank transfer.
1) Paypal
Please inform Teacher Zhao about your Paypal transfer payment, because we have to allocate your payment to your registration correctly.
After you have paid the participation fee, we will send you the Zoom link and the password of the online session.
2) Bank Transfer
BENEFICIARY'S NAME: ZHAO LIAN CHENG
ACCOUNT NUMBER: 621669 2600003946007
BANK NAME: THE BANK OF CHINA, GUILIN JIANGAN ROAD SUB-BRANCH.
BANK ADDRESS: GUILIN JIANGAN ROAD SUB-BRANCH, 45-15 JIANGAN ROAD, GUILIN.
SWIFT CODE: BKCHCNBJ49C
HOME ADDRESS: No. 97, Beier Road, Huancheng, Guilin, Guangxi,China.
Please inform us about your bank transfer payment, because we have to allocate your payment to your registration correctly.
What you need to join our online sessions:
To join our online sessions you need: a computer, cell phone or tablet (with a camera and microphone) and an internet connection. We recommend a computer or a tablet, because the display of the mobile phone might be too small for you to recognize certain Taiji ball methods.
For the online transmission we use the video conferencing tool "Zoom". As a participant you don't need to register at Zoom. You can just use the zoom link that we will send you to join our online sessions. You can download the Zoom app (https://zoom.us/), so that you only need to use the password or meeting ID.